Chatbots for Insurance: A Comprehensive Guide
Bo-Peter Laanen
•
13 Jan, 2023
•
10 min. read
Chatbots for insurance come with a lot of benefits for insurance companies. The modern digitized client expects high levels of engagement and service delivery. They are no longer willing to wait on the phone or online for a customer service representative.
This is where AI-powered chatbots come in, as they can provide 24/7 services and engage with clients when they need it most.
You can use artificial intelligence assistants, such as chatbots, to automate various service tasks. These ways range from handling insurance claims to accessing the user database.
This article explores how the insurance industry can benefit from well-designed chatbots. You will learn how to use them effectively and why training staff matters.
What is a chatbot for insurance?
An insurance chatbot is a computer program simulating human conversation. It uses natural language processing (NLP) and artificial intelligence (AI) to do that.
The industry uses chatbots across various industry segments, such as:
Health Insurance

Auto Insurance

Home Insurance

And more.
Health insurance is the number one sector benefiting from this technology.
Chatbots for insurance can replace insurance agents to help customers with:
Making insurance plans.

Identifying missing insurance payments.

Facilitate claims processes.

Access the customer's profile.

Renewing products and policies.
How insurance chatbots work
Insurance chatbots integrate machine learning, psychology, and language elements. This way, it can embody a person-like assistant that can help customers.
Here are the essential elements that make chatbots more empathetic and human-oriented:
Natural language processing (NLP)
Natural language processing is a form of artificial intelligence. It allows computers to understand human language and respond in a way that is normal for humans. The conversation is not necessarily how they naturally communicate, but it should feel normal to make them feel at ease. Another purpose is to provide clear communication.
This technology is used in chatbots to interpret the customer's needs and provide them with the information they are looking for.
Let's say a client asks an insurance chatbot about their car insurance policy. The chatbot should be able to understand the question and provide the client with the relevant information.
Training
You can train chatbots using pre-trained models able to interpret the customer's needs. These models are also capable of providing a response accordingly.

You can use insurance chatbots on various platforms:
Websites

Apps

Messaging platforms, such as Facebook messenger
Insurance chatbot benefits
An insurance chatbot comes with a lot of benefits, divided into two categories: for the client and for the company.
Benefits of insurance chatbots for customers
Here is what clients get when interacting with a chatbot for insurance:
1. Non-stop customer service
The modern client wants to be able to communicate with companies at any time of the day or night. Chatbots are available 24/7 and deal with queries in a fast and efficient manner.
2. Get a quote
Chatbots can offer customers a quote for their insurance without them having to spend time filling out long, complicated forms.
Companies can simplify the process by allowing clients to get a quote via a chatbot. This reduces the number of customers who abandon their purchase due to frustration.
3. Make a claim
Insurance chatbots can easily help clients with processing claims. Claims processing is one of insurance's most complex and frustrating aspects. Being able to do it quickly is a huge benefit for customers.
Fast and convenient claims processing retains more customers. This is why insurance chatbots have an advantage over insurance agents.
4. Paying bills
Clients are more likely to pay their bills on time if they communicate with a chatbot.
Chatbots reduce client frustration by providing an easy and quick manner of getting things done.
5. Asking questions
One of the major benefits of well-designed chatbots is they can answer questions fast and on point.
Phone calls with insurance agents can take a lot of time which clients don't have or are not willing to waste.
Chatbots can access client information quicker than a human sales team. This reduces the time spent by clients to solve their problems.
6. Making changes to a policy
Changing the address on a policy or adding a new car to it takes just a few minutes when a chatbot process the information. This benefits both the client, as well as the insurer. The less time you spend on fulfilling your client's needs, the more requests you can manage.
7. Personalized service
Chatbots gather a wide range of client information and have quick access to it. As a result, it is a lot easier for them to offer personalized service. This is a huge benefit for clients who meet their needs in no time.
You may also be interested in Conversational Banking For A Better Customer Journey
Benefits a chatbot brings to an insurance company
Here is a list of upsides companies get from using well-designed chatbots:
1. Improved customer service
Good customer service implies high customer satisfaction[1] and high customer retention rates. Chatbots resolve most queries faster than humans, which leads to both.
Service performance is positively correlated with sticking to or letting go of the provided services[2]. As a result, it becomes essential to use chatbots to upgrade your game.
2. Reduced costs
Chatbots can help insurers save on customer service costs as they require less manpower to operate.
In addition, chatbots can handle simple tasks such as providing quotes or making policy changes. This would normally require the assistance of a human agent.
3. Increased sales
Chatbots help increase sales better than a human sales team. Chatbots provide non-stop assistance and can upsell and cross-sell insurance products to clients.
4. Improved underwriting
Chatbots can collect client information quickly and accurately. This can help insurance enterprises make better underwriting decisions.
5. Fraud prevention
Chatbots prevent fraud by verifying client identities and detecting suspicious activity. They report fraudulent details to insurers to help them to investigate and prevent fraud.[3]
6. Improved client satisfaction
Chatbots can improve client satisfaction by providing quick and efficient customer service.
In addition, chatbots can proactively reach out to insurance customers to offer assistance. They can also resolve problems before they become dissatisfied.
Best use cases for chatbots in the insurance sector
There is a wide variety of potential use cases for chatbots in the insurance industry. These are just a few examples of how chatbots can be used to improve the customer experience.
Here is a list of the most popular chatbot use cases in the insurance industry:
1. Quoting and selling insurance policies
A chatbot can help customers get a quote for an insurance policy or purchase a policy directly. This makes the process of buying insurance much easier and more convenient for clients. This is a great way to improve the customer experience. Convenience is a major factor in client satisfaction.
2. Filing and tracking insurance claims
An insurance chatbot can help customers file an insurance claim and track the status of their claim. This helps streamline claim processing and makes it more efficient for both clients and insurers.
3. Making payment
A chatbot can help customers make insurance payments and manage their policies. This helps clients stay on top of their policies and keep their coverage up-to-date and includes:
Changing deductible amounts

Adding coverage

Removing coverage
4. Managing policies
An insurance chatbot can help customers manage their insurance policies. This includes:
Changing coverage

Making payments

Requesting documents
5. Educating customers
Chatbots can educate clients about insurance products and insurance services. This can help clients make informed decisions about their coverage.
6. Updating policyholders
An insurance chatbot can help policyholders:
Update their contact information.

Make changes to their coverage.

Keep track of their policies.
6. Providing account access
A chatbot can provide clients with account access and customer service. This includes the following aspects among others:
Resetting passwords

Providing account balances

Answering client service inquiries
7. Gathering feedback
A chatbot can collect client feedback. You can use this feedback to improve the client experience and make changes to products and services.
Insurance chatbot examples
Insurance providers globally are using chatbots to improve customer engagement and the overall customer experience. Here are a few examples:
1. AG2R La Mondiale
Image Credit: Inbenta
French insurance provider AG2R La Mondiale has a chatbot created by Inbenta using conversational AI.
Using a dedicated AI-based FAQ chatbot on their website has helped AG2R La Mondiale improve customer satisfaction by 30%.
Their chatbot helps users with various tasks:
Finding the right insurance product

Making claims

Understanding the company's policy
2. State Farm
Image Credit: State Farm
American insurance provider State Farm has a chatbot called "Digital Assistant". This chatbot was created using IBM Watson technology. According to State Farm, the in-app chatbot "guides customers through the claim-filing process and provides proof of insurance cards without logging in."
The chatbot is available 24/7 and has helped State Farm improve client satisfaction by 7%.
In addition, the chatbot has helped State Farm save $1 million per year in client support costs.
3. PolicyBazaar
Indian insurance marketplace PolicyBazaar has a chatbot called "Paisa Vasool". It helps users with tasks such as finding the right insurance product and comparing different policies. In 2022, PolicyBazaar also launched an AI-Enabled WhatsApp bot for the purpose of settling health insurance claims.
The chatbot is available in English and Hindi and has helped PolicyBazaar improve customer satisfaction by 10%.
In addition, Paisa Vasool has helped PolicyBazaar save $2 million per year in customer support costs.
4. FWD Insurance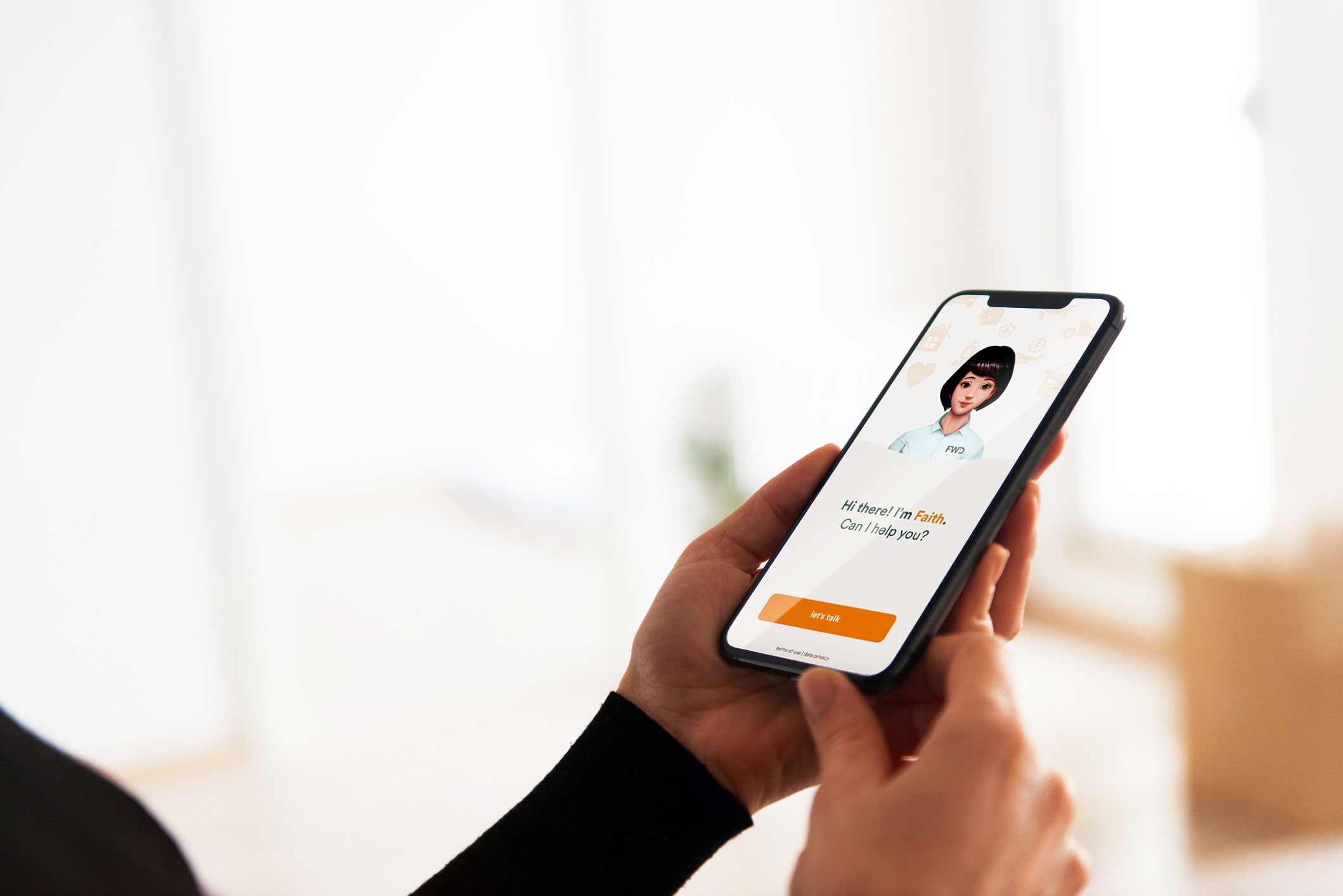 Image Credit: FWD Insurance
Singaporean insurance company FWD Insurance has a chatbot called "FWD Bot". It helps users find the right insurance product, make a claim, and understand their policy.
The chatbot is available in English and Chinese. It has helped FWD Insurance scale its client service by allowing users to get answers to their questions 24/7.
In addition, the chatbot has helped FWD Insurance save $1 million per year in client support costs.
What are the primary roadblocks to chatbot implementation for insurance companies?
While there are a range of benefits that insurers can reap from chatbot implementation, there are also a few roadblocks that need to be addressed. Some of the primary roadblocks to chatbot implementation for insurance companies include the following:
1. Lack of understanding about what chatbots can do
Many insurers are still unaware of the potential benefits that chatbots can offer. This lack of understanding often leads to a lack of investment in chatbot development.
2. Lack of internal skills
Many insurance firms lack the internal skills required to develop and implement chatbots. This often leads to a reliance on external vendors which can be expensive and may not always result in the best chatbot solution.
3.

Regulatory

concerns
Insurance firms are heavily regulated. There are concerns that chatbots could violate some regulations. For example, there are concerns that chatbots could be used to sell insurance products without the proper disclosures.
4. Privacy concerns
The privacy concerns related to chatbots include whether it is possible to collect sensitive personal data from users without their knowledge or consent.
Despite these challenges, chatbots can be valuable to an insurance company's client service arsenal.
How Conversation Design Institute can help
Creating a chatbot that provides the kind of benefits that insurance businesses need requires a specific set of skills. Our team of experts has the necessary experience to help you create a chatbot that meets the unique needs of your insurance business.
Conversation Design Institute offers "Learning for Business". This is a program specifically designed to help businesses train their employees in how to use chatbots successfully.
The program offers customized training for your business so that you can ensure that your employees are equipped with the skills they need to provide excellent customer service through chatbots.
Contact us today to learn more about how we can help you create a chatbot that meets the unique needs of your insurance company.